Steriflash
FUNCTIONING PRINCIPLE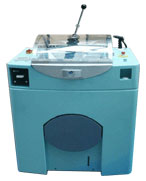 Waste deposited in the hopper is mechanically shredded and then falls into the treatment tank. Once the tank is full, a processing cycle can then be started. This occurs automatically following the injection of saturating wet steam which is supplied by an external steam generator (outside process chamber). The temperature achieved is 135°C at 2.3 bar pressure for 20 minutes.
At the end of the cycle, the front door opens automatically and the solid spun waste is released into a container - liquids are drained off via the waste water network
PROCESS MONITORING AND CONTROL
An operator console gives information at all times concerning the progress of the cycle and the temperature and pressure values in the treatment tank.
A pressure gauge indicates the pressure value in the generator.
Automatic control is managed by a programmable controller that can store data over a 2-week period
TRACEABILITY
Traceability is ensured by the output of a ticket on which the date, cycle number, temperature and pressure sampled each minute are shown, as well as a certificate that the disinfecting cycle has been carried out successfully
Safety is implemented at many levels:
- Disinfection of surfaces in container area every time the transparent lid is opened .
- Lid opening prohibits start-up of shredder thanks to a level IV safety relay
- Gaseous discharges are filtered (0.2µ), condensed and treated by bubbling.
- Exudates are decontaminated and cooled.
- Each machine is certified on delivery
- Electrical components are located at the rear of the machine in a specific waterproof housing.
- A cleaning cycle is imposed every 20 cycles maxi
CAPACITY
Volume (total) of waste deposit hopper: 45 liters
Useful volume of disinfecting tank: 38 liters
Volume of bactericide tank: 2 liters
Volume of steam generator: 8 liters
Pressure and temperature of steam in generator: 6 bars; 160 °C
PROCESSING PERFORMANCE
80 liters of bulk waste in 40 minutes; the time for shredding these 80 liters which requires manual intervention is around 3 minutes.
FIELDS OF APPLICATION
- Hospitals
- Clinics
- Specialized clinics
- Free health centers
- Retirement homes with medical sections
- Analytical labs
- Hospital microbiology labs
- Dialysis centers
- Cancer logy centers
- Field hospitals within the framework of humanitarian interventions
- Veterinary practices (grouped)
- Dentists (grouped)
- Nurses (grouped)
- Doctor's offices
- Army Medical Corps
- Firemen
- Home care services
- Schools
- Scientific labs
- Waste disposal centers