Purpose of device:
To improve menís potency and womenís libido. The electromagnetic stimulator Potency can also be used for preventive purposes.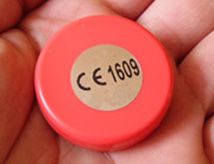 Electromagnetic Stimulator Potency is a new generation device that helps to overcome various sexual derangements (weak erection, preconceived semen outbreak, fear of unsuccessful sexual intercourse), positively affecting hormone secretion, blood circulation and nervous systems, sexual potency.
With the positive results of 61,1 per cent of patients, the electromagnetic stimulator Potency shows extreme effect on their sexual function. The device is labeled by CE sign.
The principle of working:
The Electromagnetic stimulator Potency is a tiny generatorĖ it works using fixed low frequency magnetic impulses, and creates a certain magnetic field. Its impulsesí frequency, amplitude and form are chosen in the way to make the best positive impact on the human organism.
The variable magnetic field that has been created by the electromagnetic stimulator, improves blood circulation, betters the throughput of blood vessels, stimulates the processes of organismís internal tissue circulation and physiological processes (menís potency and womenís libido). The effective field covers approximately 5-10 cm, that is why if one keeps it in a trousers pocket, it will positively affect the area of pelvis.
Effect:
It has been proved that every cell of the organism carries an electrical load and in normal conditions is affected by the magnetic field of the Earth. Although nowadays in the age of technology, ferroconcrete, metals, the natural magnetic field reaches us in a limited or perverted way, while this can cause negative changes in the organism (relaxation, fatigue, depression). The Electromagnetic stimulator Potency compensates the lack of natural magnetic field and stimulates the essential functions of the organism.
The positive effect should be noticed in two-three weeks after starting to use it regularly.